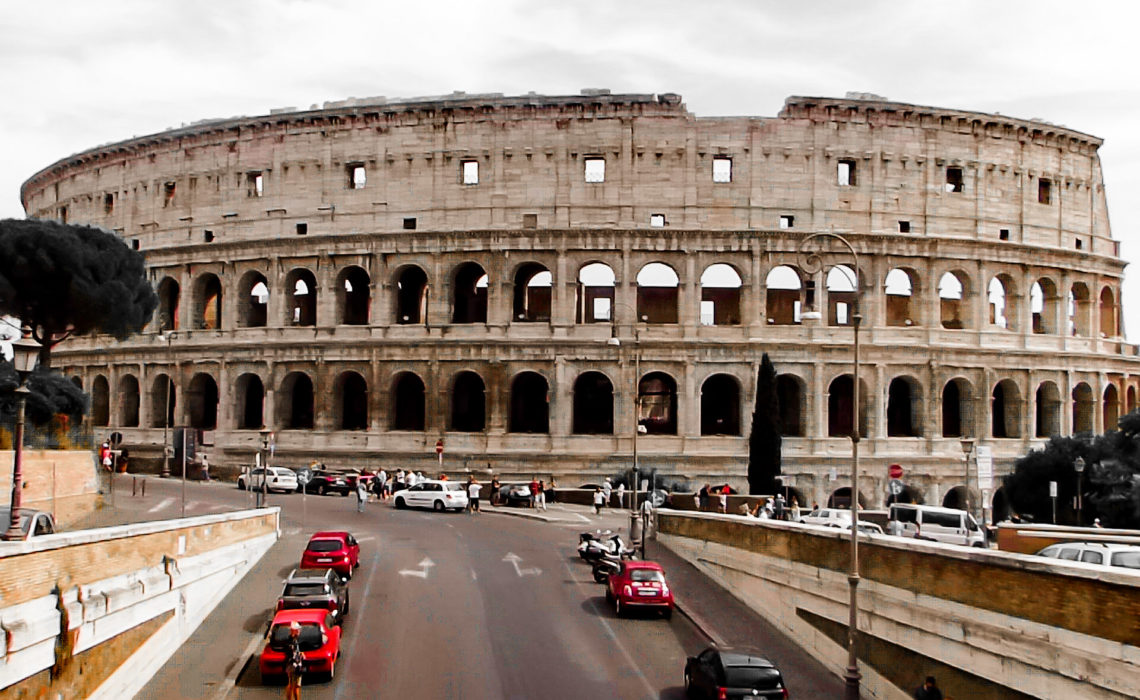 Ciao

!

Last summer I took my mom, little brother, and niece to a little family getaway in Rome. I'm a huge fan of architecture especially old ones, and Rome is a special place for it. So we jumped on an Easyjet plane, and 1h30 minutes later we landed in Italy at Fiumicino airport in a hot 32°!
– pic by http://www.airtransat.com
From the airport the simplest way is to take the shuttles around €7, dropping you at termini station, where you have the metro and buses. We took a taxi family members didn't trust me on the shuttle thing it was more convenient. I choose to stay at an Airbnb, family members didn't trust me on this one again until we had the keys, we were in their flat in a lovely residential area outside the center, with AC! The only thing missing was a pool.
To move around, I recommend buying the Roma pass. It includes transport, some discounts, and entries to museums and touristic sites here are their site Roma pass. I found a lot of tips on this blog Virée Malin (when you travel with family you have to show proof to where you are taking them! If not they don't trust you), but it's in french.
As you can see below, you can do almost all the sites by metro/ foot (if you can stand the heat), with your starting point at Termini station
At Termini you will also find the hop on and hop off buses. I found it very handy to visit all the sites around, they have a stop at almost each touristic site along the path up here.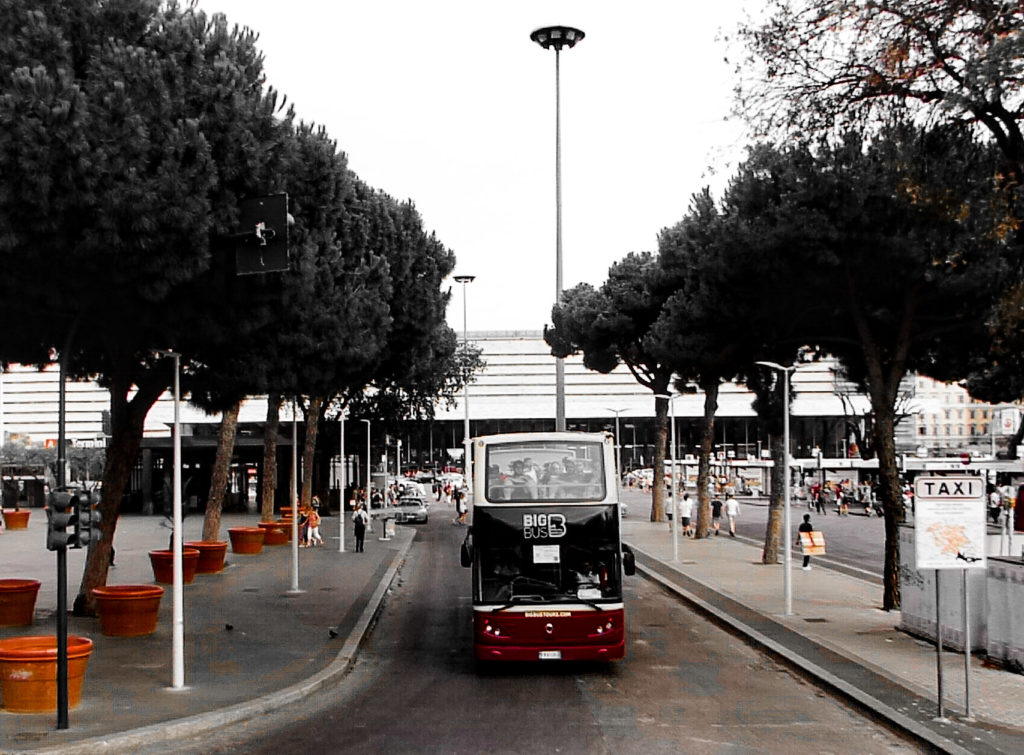 So here's a look at Termini (imagine the Italian accent in your head :D) that was the starting point of our trip.
Down the road our first stop was at one of the 4 the basilica papal, Basilica Papale Santa Maria Maggiore a pretty catholic church build in 435 after JC. It's one of the oldest roman church consecrated to the virgin Mary.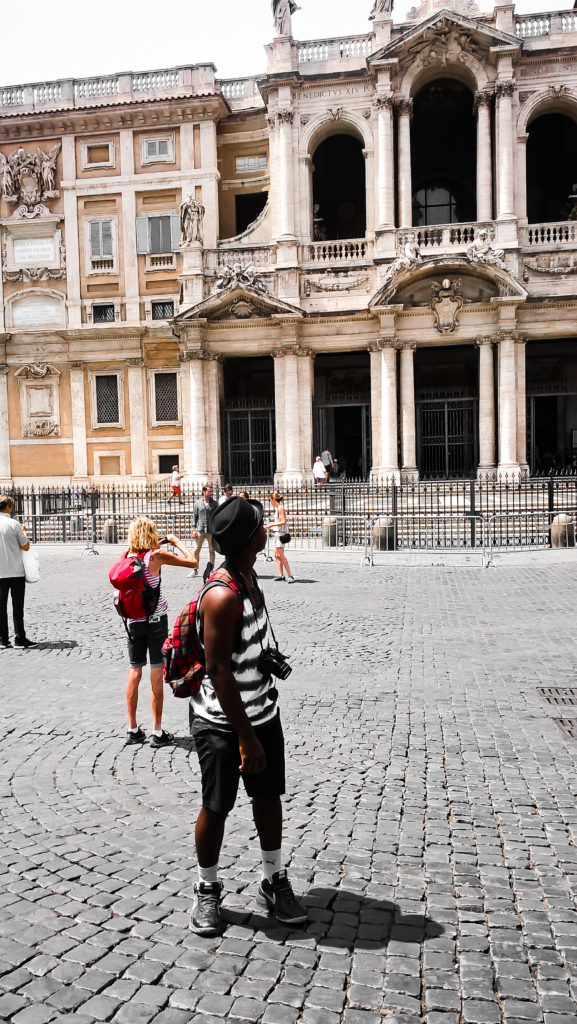 Due to my sharp skills in photography, you won't see it in full in the pictures I took
Here the pretty details on the ceiling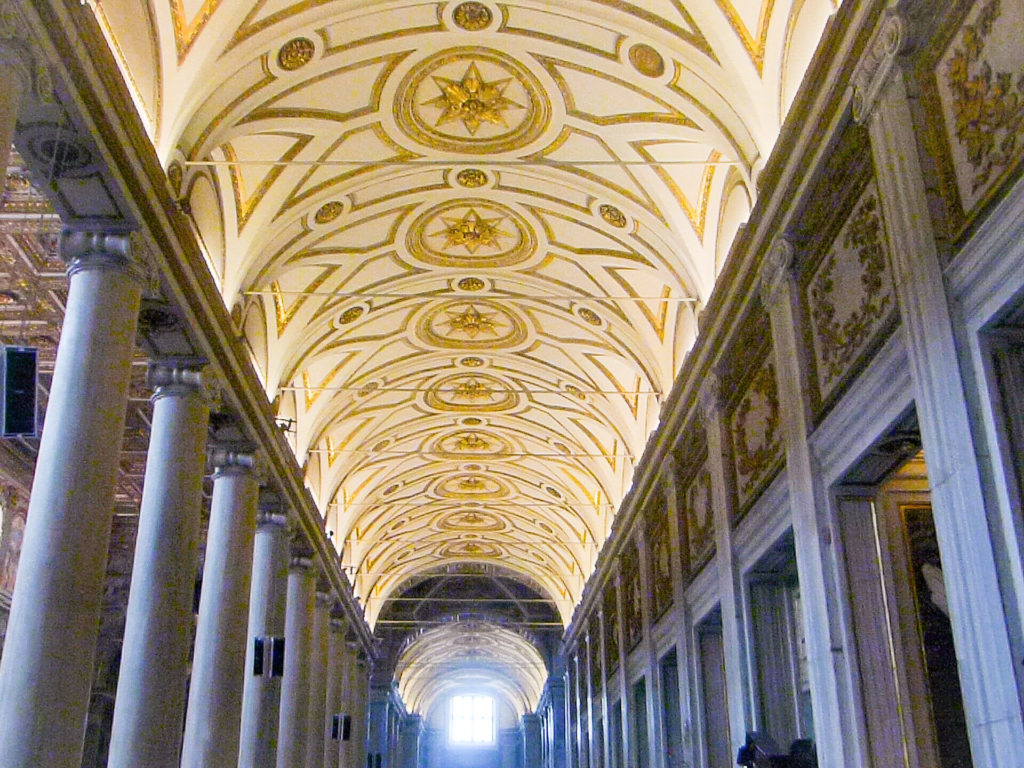 This is the praying Pope statue, I don't know maybe the shadow in the small crypt (don't know if it's called this way)  but it's kind of strange…and beautiful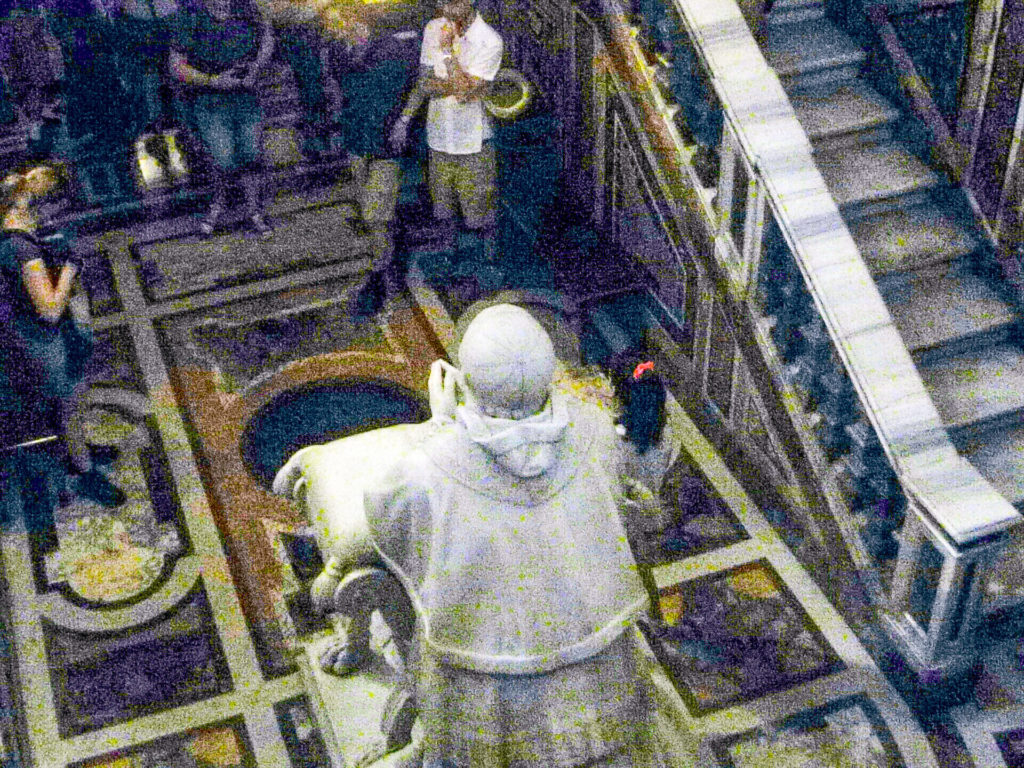 Sorry for the poor quality, no flash  inside and the room was in the dark. Since I'm not an expert at editing it came out bad
The sun decided to shine bright… very bright that day so we had to stop buying a hat. you'll find lots of  hats vendors around the sites, be careful with the prices.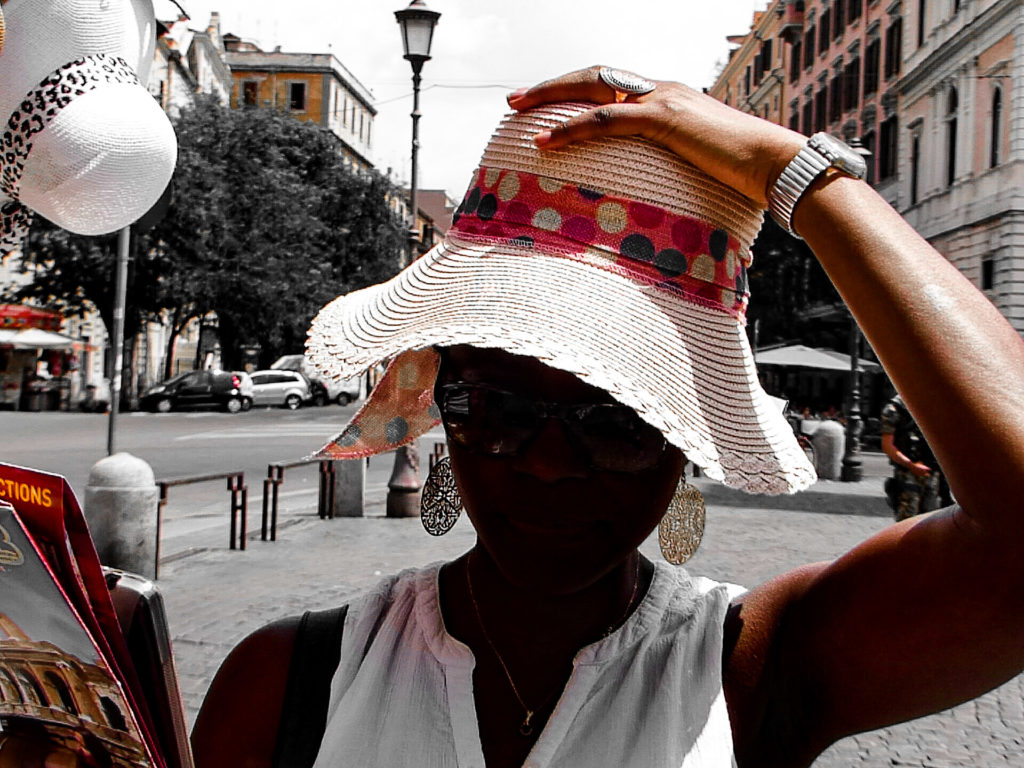 Hop on the bus again heading toward the coliseum, the buses had to pass on a small road. I forgot the reason why, but at the end of that narrow, very common street you suddenly see the huge, magnificent roman construction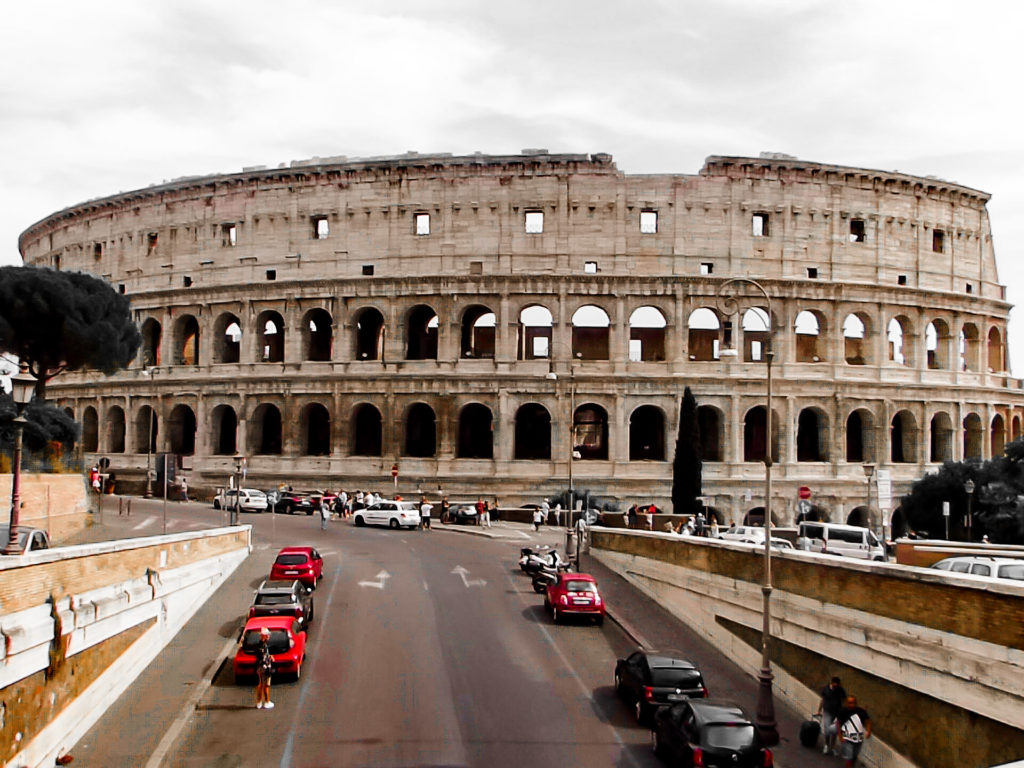 An other angle from Via triumphalis
Since we took our time to start our visit, the site was already crowded when we got there. We had to skip the  atrium visit

Mom was tired and said " people died there I don't need to go inside! I have seen the most important". So we had a picnic under an olive tree in front of the Colosseum  and wandered around the site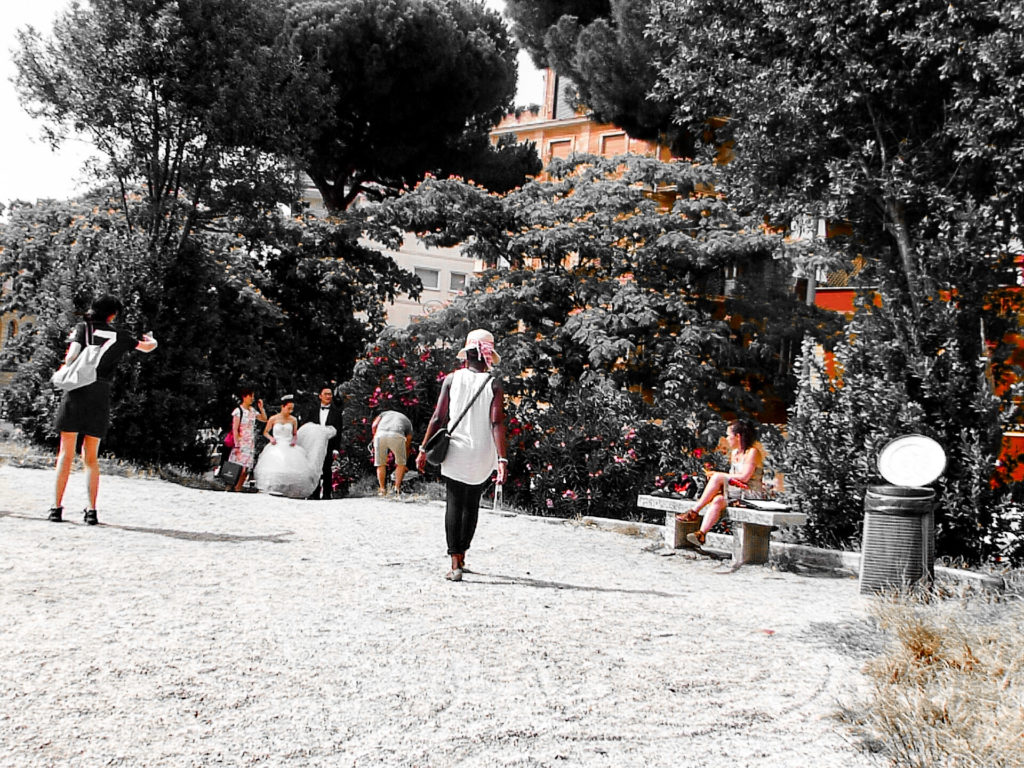 We crossed a  lots of couples taking wedding pictures around , I understand them it's such an original spot!
On Via triumphalis we had a look at The Arch of Constantine,  located between the Palatine and the Colosseum. It's a beautiful triumphal arch built in 315, to commemorate Constantine victory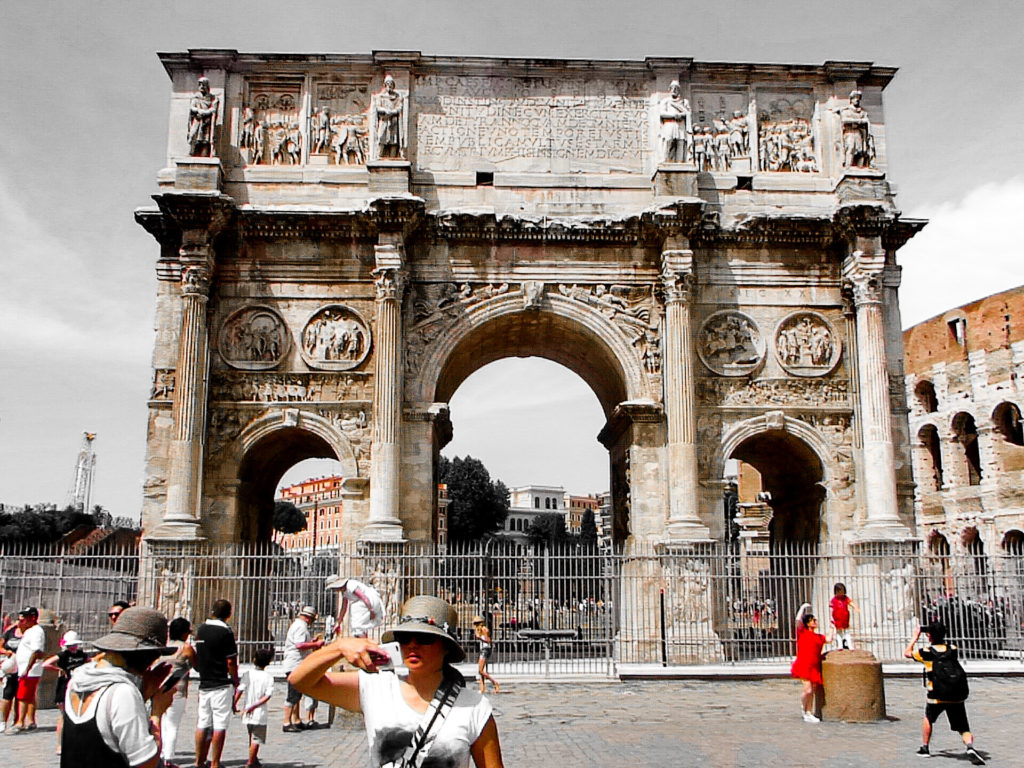 After our little lunch, we took the bus to our next stop
To ease our digestion we took the 124 step!!! leading to Chiesa Santa Maria in Aracoeli. Again I'm such a bad tourist I don't have a full picture of that pretty church. The one I took is so ugly you won't even recognise the church.
Mom was so brave she climbs the steps with us and as a reward we got the panoramic view of Roma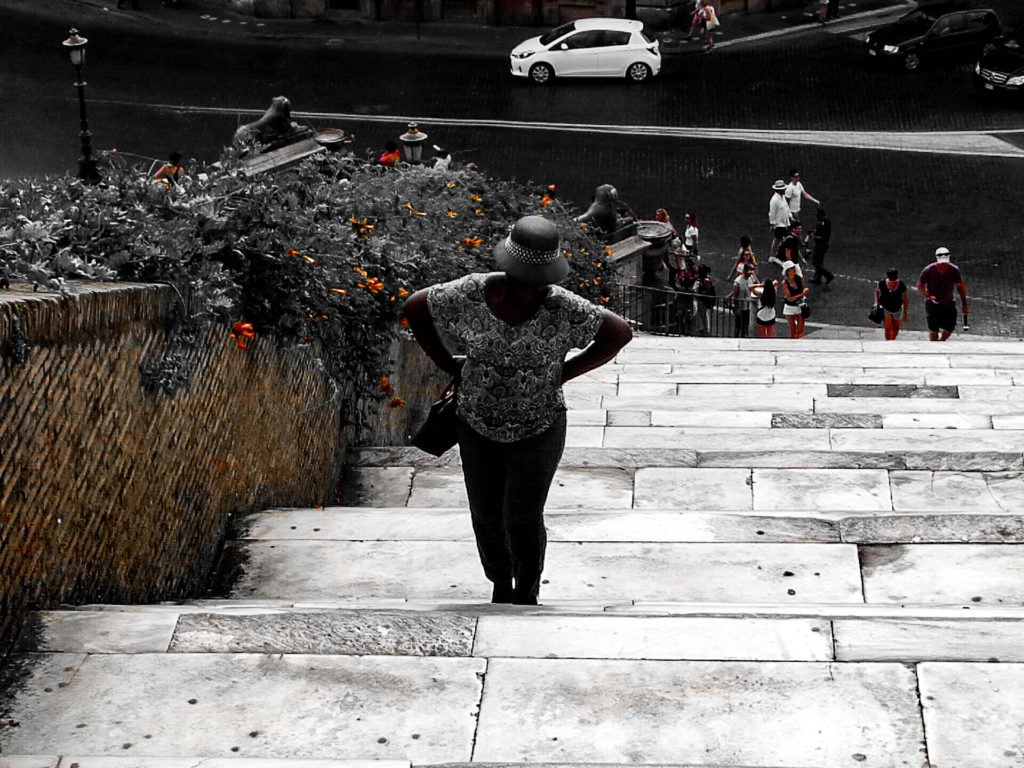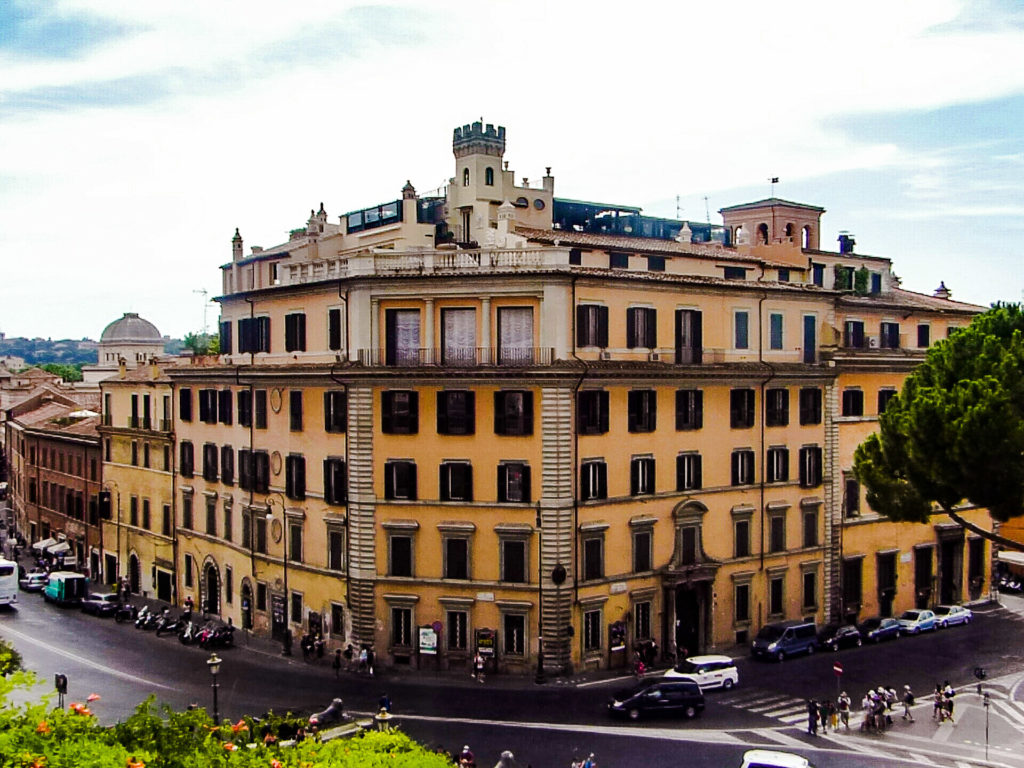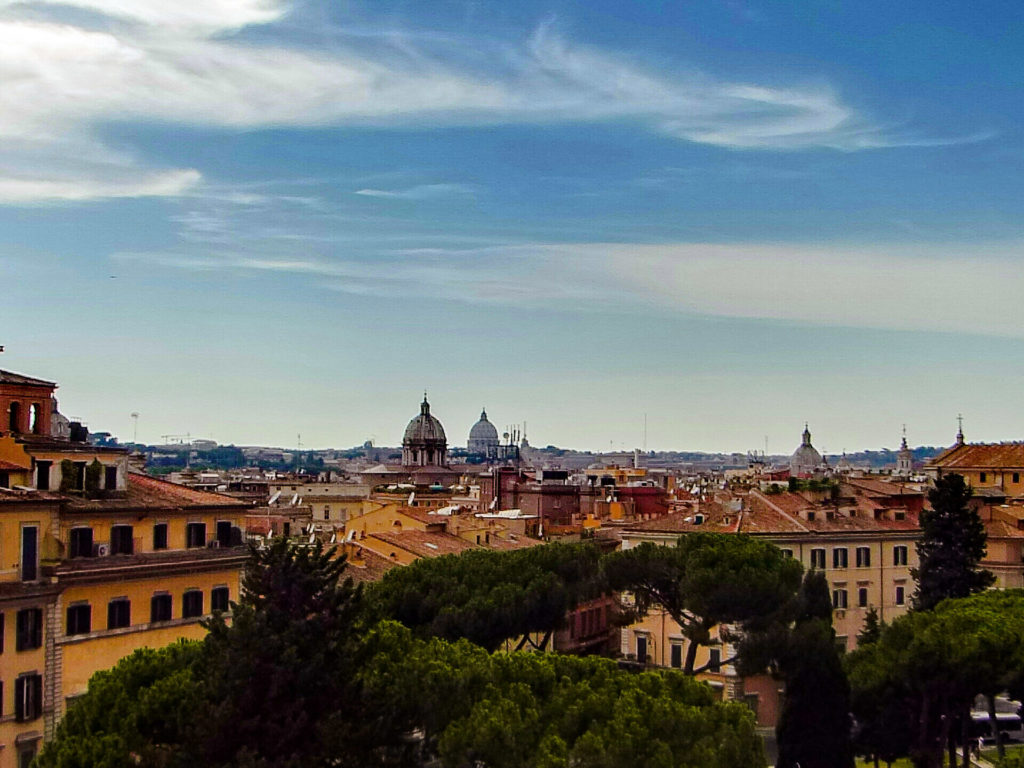 At our left the Piazza del Campidoglio, designed by Michel Angelo in 1536 with the beautiful antic statues of Castor and Pollux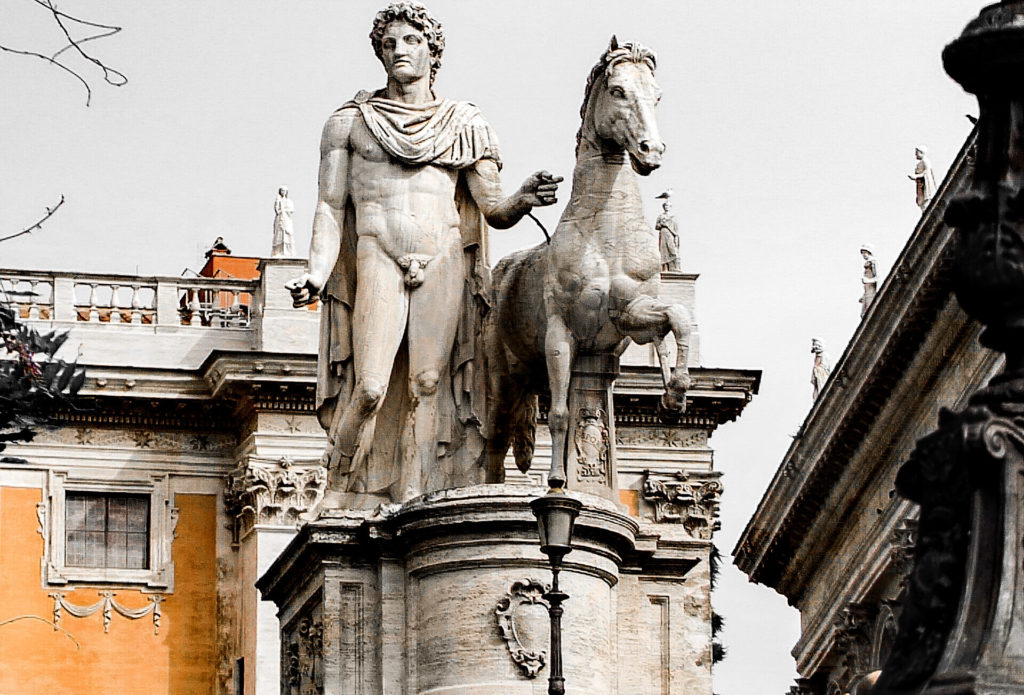 We took some rest after climbing the 124 steps and went further on Piazza Venezia, with it stunning white marble monument called the Altare della Patria dedicated to Vittorio Emanuele II. It has beautiful equestrian sculpture of Victtorio and two statues of goddess Victoria riding quadrigas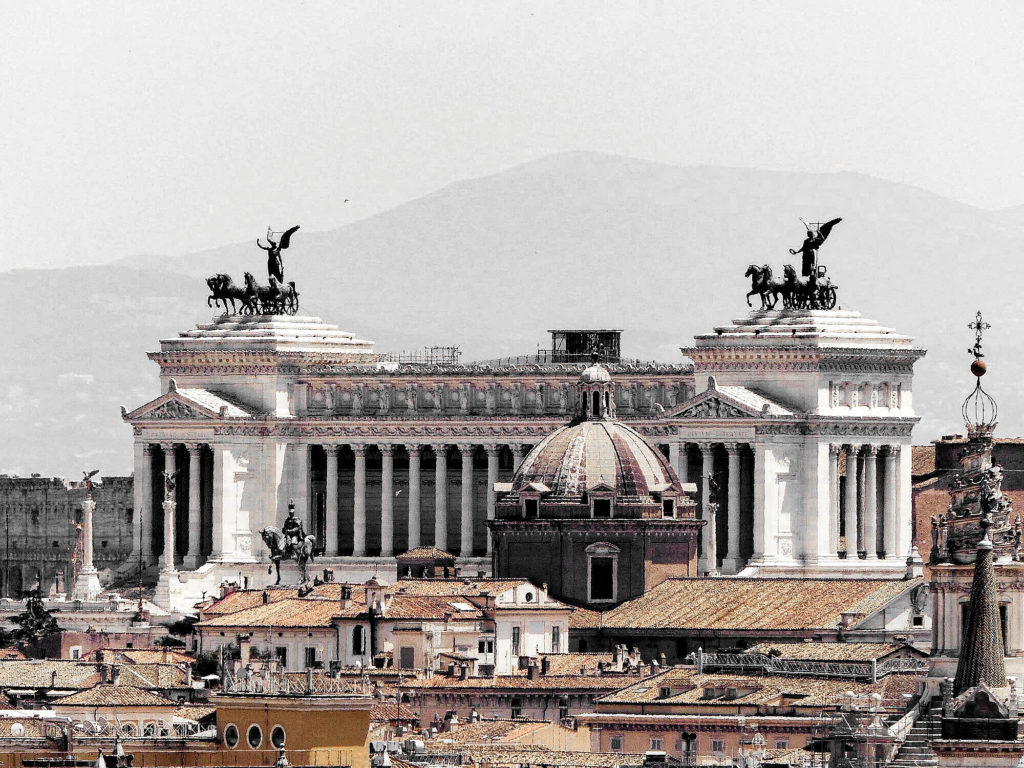 Later in the day we went to throw a coin at the Trevi fountain, it was crowded! But I manage to get that picture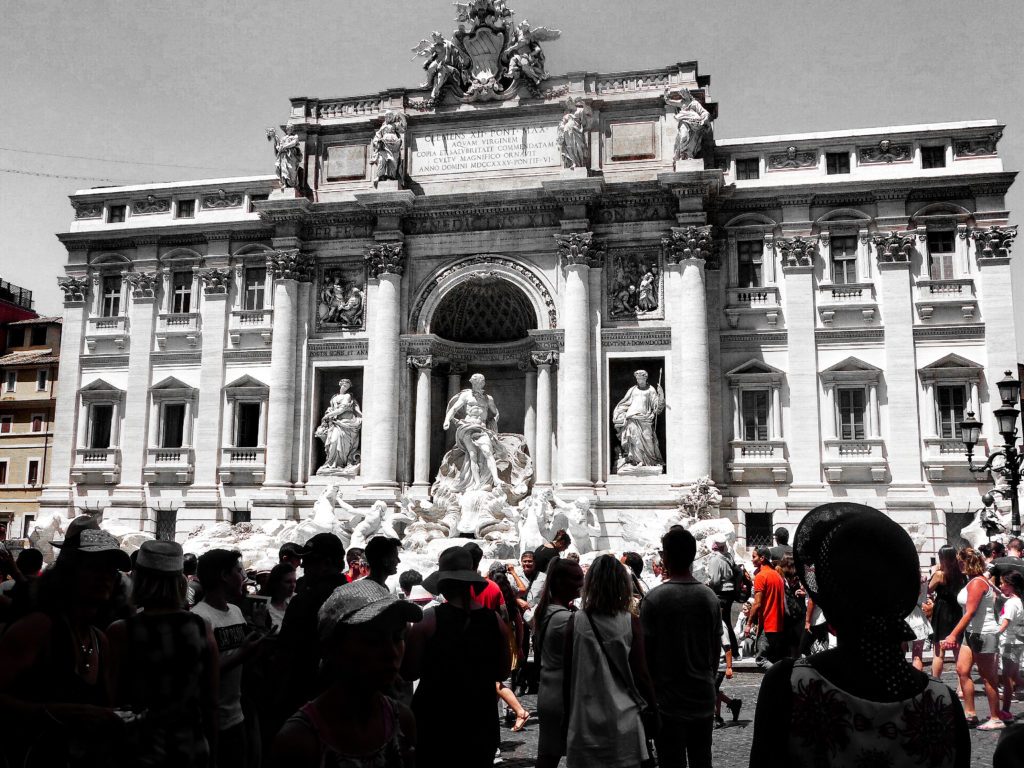 I know I should have got there earlier than 11 am to have fewer people but holidays are meant to sleep as long as you want !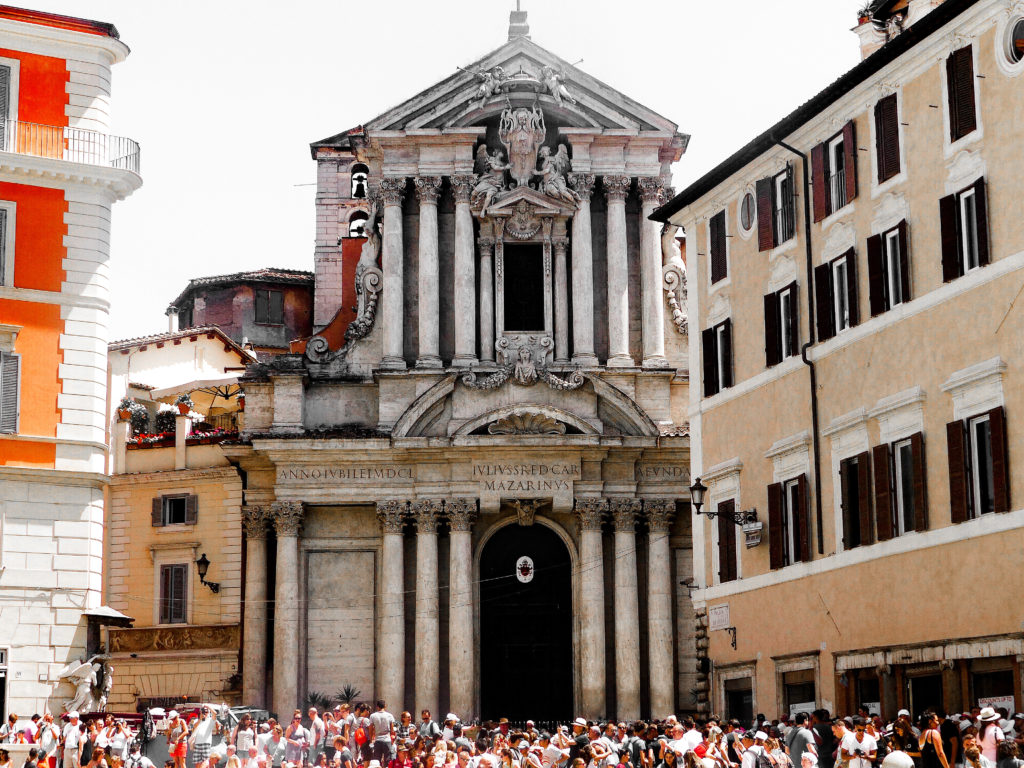 We sat there for a minute and went to taste some pasta in a nice restaurant (I forgot the name sorry, but I have a carbonara photo! )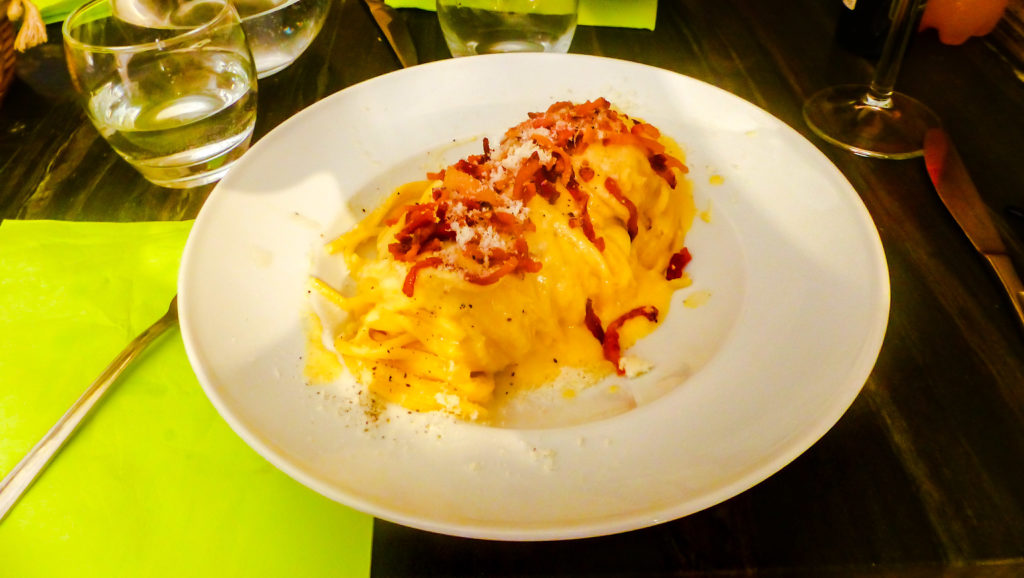 Of course we were 3 girls out there, we had to do a little* shopping in piazza di Spagnia ! Lots of shops were having sales so we found some pretty outfits there.
I really recommend the Hop buses to discover the city. We took a ride after our shopping to go back to termini station and go home. The bus just drive you by the monuments and famous places of the city while you enjoy some gelato :) I only regret not being able to visit Villa Borghès and I don't know how I miss the Pantheon while being near the Trevi fountain.
It was definitely a nice adventure, people where friendly, we didn't have trouble to move around the city, the metro was the best solution has it covers almost all the sites.
Thanks to little brother photograph who took all the pretty shots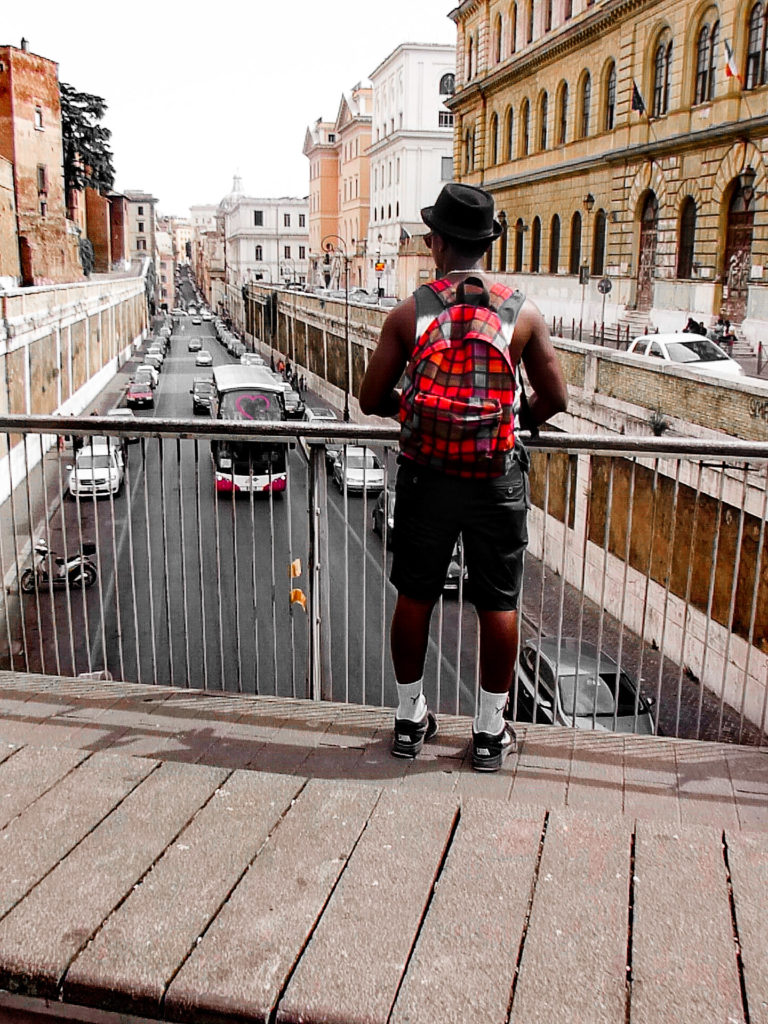 And most of all, my mom being a fervent catholic I was so happy to be able to take her to the Vatican and share that with her. I'll  soon post the Vatican pictures with you 🙂
Bisous!
ps: It's post number 3, how is my writing doing so far? do you guys get what I'm trying to share ? for those who didn't read Post n°1   english is not my native language , I am experimenting 🙂

Gabonese expat and Lyonnaise by heart.
I'm an IT Engineer, bloggin at night and a bookworm the remaining time .
Come with me as I travel the world !