Sunscreen alert
I had to do a post about it! I had to! Let's set the context :
Black / brown / tan people tired of the white cast usually left by sunscreens 😠 (my fellow black people we need to stop spreading this "black people don't need sun protection" it's simply a myth)
Oily /combination skin tired of looking like a donut after using a sunscreen
And the worse! My case , combination of the above leaving you like a sugar-coated donut 🍩
Now that we all recognize ourselves  let me announce📢 that I have finally found the perfect one!! Yes the one!
It doesn't leave a white cast (I'm black so trust me on this)
It's not sticky
It's water based so I don't turn into a 🍩. We have a heat wave in France so I put it to good use and my face didn't get oily
And it's SPF 50 so it's perfect for our summer outdoor adventures
It leaves a semi mat finish and you don't feel it on your skin. It's really a light texture
It has a small scent however,  but you don't notice it after it dries
I'm not a beauty blogger so I'll leave the composition here and each of you will decide whether it's good for you or not. It does have alcohol and I'm usually reacting to it  but not with this one. Lucky me!

Enough blabla. Here he is! 😍 my new love
Biore Uv Aqua Rich watery essence
It's from the Japanese market of the global beauty brand  Biore
I found it on Amazon for 9.58€ .You see it's not even expensive!
They have also a gel version which I will buy for body usage it has a bigger countenance (I found some great review for this one too)
Biore UV Aqua Rich Watery Gel SPF50+ PA++++ Ultra Light 2017 version 90ml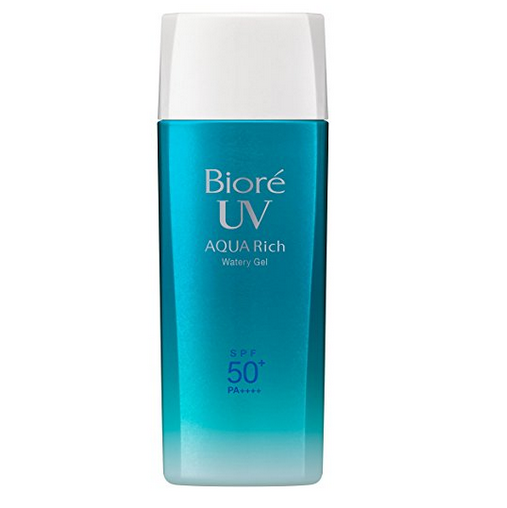 You just have to buy it now and come back to tell me how in love you are with it!
More details about it  here Fifty Shades of Snail 

Gabonese expat and Lyonnaise by heart.
I'm an IT Engineer, bloggin at night and a bookworm the remaining time .
Come with me as I travel the world !